The Machrie – a true jewel on Islay
2021-05-23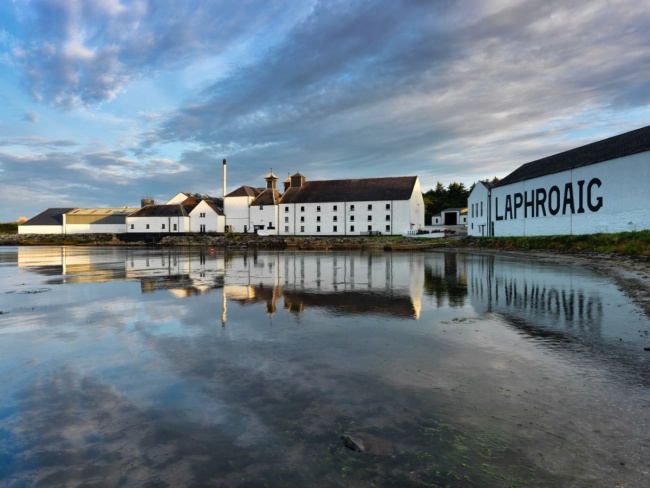 The Machrie – a true jewel on Islay Islay, the southernmost island of the Inner Hebrides in the southwest corner of Scotland, is known as "The Queen of The Hebrides". The fame of the fifth largest Scottish island is mainly based on its peat-smoked malt whisky. Islay with its capital Bowmore is home of approx. 3.200 people and nine active distilleries (Ardbeg, Ardnahoe, Bowmore, Bruichladdich, Bunnahabhain, Caol Ila, Kilchoman, Lagavulin, Laphroaig) . But this island in Argyll has also attracted golfers for more than hundred years. The Machrie Links was long considered an insider tip. In 2012 new life was breathed into this classic golf destination. Gavyn Davis, a former chairman of BBC, a Goldman Sachs partner and founder of a £10 billion plus hedge fund, bought the course of the Islay Golf Club and brought his friend Gordon Campbell Gray into the project. Gray who runs The Wee Hotel Company grabbed the opportunity to open his first hotel in his native Scotland. The old building was tastefully integrated into the new building. The Machrie now boasts 47 rooms and suites, some of them in newly built lodges. Some rooms offer wonderful views over the spectacular links course. In late summer of 2018 the new Machrie opened, a luxury hotel with a PureGray Spa, sauna and a gym. Already in 2020 The Machrie received two prestigious awards: "Scottish Hotel of the Year" and "Scottish Golf Hotel of the Year". Overlooking the 18th green of the course and the ocean beyond, "18 Bar & Restaurant" is the place to enjoy a pre-dinner drink. Located on the first floor of the hotel, the impressive restaurant has a vaulted glass ceiling and an outdoor terrace offering panoramic south westerly views over the golf course and down to Laggan Bay and the Atlantic Ocean. "18" specializes in finest local ingredients from the land, the sea and the air; a real showcase of exquisite cuisine.
After dinner you can enjoy a dram of all different Islay whiskies. If guests would like to learn more about the local "water of life" whisky tastings can be booked. Even though Islay whisky is known as peaty, many distilleries now produce malts for all tastes. Gin connoisseurs can check out the two Islay gins Nerabus and Botanist Island Dry Gin. The core of the resort is the 18-hole championship course, a links which is located on a 7-mile stretch of beach in the southwest of the island. The original designer Campbell raved about this piece of land: "This place is made for gowf." Unlike most links courses the routing of the original layout led golfers over instead through dunes. Therefore the course was famous, some might say infamous, for the number of blind shots incorporated into the design. More than perhaps any other course in the world, The Machrie needed knowing. Although a quintessential 19th-century Scottish links, the Machrie was, by modern standards, unfair and sometimes confusing. There were also safety concerns to consider with no fewer than 17 blind shots on the layout. "It was also a very demanding test of golf. You were playing blind tee shots: so you were hitting tee shots over a marker pole and then, if you were lucky enough to find your ball when you got over there, your second shot was over another marker pole. There's a place for that but probably not on every hole", says David J. Russell. DJ, as he is commonly known in the golf community, played 466 European Tour events from 1973-96, winning the Lyons Open in 1992 and served as a vice captain to his Welsh friend Ian Woosnam at the winning European Ryder Cup Team in 2006. "I was brought in to tweak the course in 2013.
But it soon became clear that we could do something really special. We gradually pieced together how to put 18 quality golf holes along the original layout. Now it is an awesome links experience, with high dunes, dramatic elevation changes and wide fairways, fun and a challenge for golfers of all abilities and ages", says DJ. Even for professionals the course from the championship tees (7024 yards, 6423 m) is a real test. Maybe the golf course's best description is this one: A course everybody would love to play again, even after a bad round. Over the winter 2020/21, The Machrie Links Greens Team has completed the addition of 34 new eco bunkers and nine new championship tees to the links, under the guidance of DJ. The bunkers have been introduced to create a more strategic course, with more risk-reward holes. The bunkers are classic links revetted bunkers, constructed by EcoBunker. EcoBunker use artificial turf from old sport pitches, recycled to use in bunker faces, saving them from landfill. Moreover, artificial turf has a longer lifespan and requires less day-to-day maintenance. After construction, the new bunkers are almost identical to traditional turf bunkers. The new championship tees have increased the length of the course from 6,782 to 7,024 yards and have been added to the 2nd, 3rd, 5th, 6th, 7th, 11th, 12th, 15th, 16th and 18th holes. The Links has now also been Course Rated and Slope Rated.
For those wanting to perfect their swing, The Machrie Links' resident PGA Golf Professional, David Foley, is available to provide tuition for all levels from complete beginners to those playing at a more advanced level. Additionally, there is a six-hole Par 3 Wee Course as well as an all-weather driving range and indoor golf studio for those wanting to practice their swing. Since its opening in late summer of 2018 The Machrie Links is rising in all rankings. The course is listed within the Top 20 in Scotland, British golf magazine "Golf World" ranks The Machrie Links even within the Top 100 in the world with public access. Other than the stunning 18-hole championship links, The Machrie also has the Wee course, a sixhole square miles par-3 course which can be played from different tees. The all-weather, 5-bay driving range is accompanied by an indoor golf studio which includes a Trackman Golf Simulator to fully analyze swings. Irish PGA-Professional David Foley offers lessons for beginners and golfers of all skill levels. Islay with a total area of almost 620 square kilometers (240 square miles), 40 km long, 32 km at the widest part, also offers a lot for nature lovers. Only a short walk from The Machrie guests can enjoy one of the most beautiful shores, the 7-mile (11,27 km) Laggan Beach with beautiful white sand, ideal for sunset picnics. The Machrie is well located for exploring all the local culture, crafts and heritage of Islay. An excursion to the Oa Peninsula Nature Reserve is highly recommended to experience dramatic sea cliffs, open moorland, freshwater lochs, coastal grassland and heath.
It is home to many important breeding and wintering birds, especially for golden eagles, which are present throughout the year, soaring above the cliffs and moors. A quick side-trip to the neighboring island of Jura can be done by taking a 10-minute ferry. Jura has one whisky distillery and one golf course (Ardfin Estate). Islay is accessible by air or by ferry. There are regular ferry services from Kennacraig (2:30 hours by car from Glasgow) that sail to Port Ellen (2:20) and Port Askaig (1:55). There are also ferry connections from and to Oban (5:30) as well as to the Scottish peninsular Mull of Kintyre (Campbeltown) and Ballycastle in Northern Ireland during summer. Loganair offers twice daily flights from Glasgow to Islay and v.v. which take approximately 20 minutes. It is also possible to fly from Oban with Hebridean Air Service to the Islay Airport in Glenegedale, located just 4 km from The Machrie Hotel & Golf Links. The Machrie offer complimentary transfers from the airport and Port Ellen Ferry to the hotel.
www.themachrie.com
www.machrielinks.com
Helma Scheffler Helma Scheffler Creative Communication