Hotels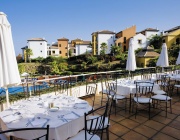 The Aldiana Club Costa del Sol is winner of the HolidayCheck Award 2018 and is one of the 10 most popular hotels in its region. Surrounded by the most beautiful golf courses in Spain. Aldiana Costa del Sol is located in the middle of a botanical garden on the Costa del Sol - 120 km from Malaga - a real dream of golfing.
Adres:
Avda, Pablo Cerezo s/n 11316
San Roque Cardiz
more ›
The idea is simple but brililant: Overnight lodging on green playgrounds. In 2011 hotels in Germany, Austria and Switzerland, all located on golf courses, joined forces for a new marketing cooperation: "Hotels auf dem Golfplatz" (Hotels on the Golf Course). Since its inception the group has grown to 29 members in Germany, Austria, Italy and Spain.
more ›